| | |
| --- | --- |
| 49CH2585 | Owners: Derry & Mary Wright and Milestone Investors |
| | | | |
| --- | --- | --- | --- |
| | DA PASSPORT 502 P ET | | LT BLUE VALUE 7903 ET |
| Sire: | WC BENELLI 2134 P ET | Dam: | WC LADY BLUE 0506 P |
| | JWK CLARICE J139 ET | | DS MISS L06 5078 ET P |
| | | | | | | | |
| --- | --- | --- | --- | --- | --- | --- | --- |
| BORN | REG. # | TATTOO | BW | WW | YW | FRAME | SC |
| 12/01/2015 | M865273 | 5223 | 93 lbs | 861 lbs | | | 39 cm |
| | | | | | | | | | | | | |
| --- | --- | --- | --- | --- | --- | --- | --- | --- | --- | --- | --- | --- |
| AICA-S17 | CE | BW | WW | YW | MILK | MCE | TM | SC | CW | REA | FAT | MARB |
| EPD | 1.2 | 1.5 | 42 | 67 | 11 | 1.8 | 32 | 1.2 | 31 | 0.50 | 0.013 | -0.01 |
| ACC | 0.33 | 0.55 | 0.32 | 0.19 | 0.16 | 0.14 | -- | PE | 0.16 | 0.14 | 0.16 | 0.13 |
| RANK | 70% | 75% | 6% | 15% | 40% | 70% | 10% | 20% | 9% | 30% | 65% | 70% |
Comments:
Homo Polled
The talk of the 2016 Denver `Yards`
Milestone combines outstanding performance, carcass traits and phenotypic excellence with a rock solid pedigree.
One of the largest Ribeye Area sires we`ve ever come across posting a 21.66 sq inch ribeye at 13 months on his ultrasound.
One of the highest selling Charolais bulls in North America in the spring of 2016 when he topped the Wright Charolais bull sale at $125,000.
His dam is an exciting daughter of LT Blue Value that goes back to the great donor WCR Miss L06 5078 that topped the Southern Cattle Co Cowherd Dispersal.
Maternal and Paternal excellence runs throughout his pedigree tabulation.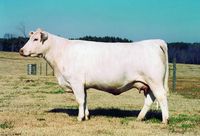 PGD: JWK CLARICE J139 ET